Annapurna Base Camp Trek is well known as the second most popular trekking destination of Nepal after Everest Base Camp. Annapurna Base Camp Trekking takes you to one of the astonishing Himalayan kingdoms where you can experience the country culture and the most important naturally blessed highlights including natural waterfalls, awe-inspiring landscapes, traditional settlements, flora and fauna, and breath-taking mountain panorama. The entire Annapurna mountain range is just mesmerizing during trekking in this trail.
The trek starts from Pokhara valley after driving or flying from Kathmandu to Pokhara, one of the astonishing touristic spots in entire Himalaya with marvellous views of Annapurna Himalaya. Among them, Machhapuchhre (Fishtail) is the most dominant. Pokhara itself offers some of the major trekking insights in this region. The quiet city with tranquil lakes falls and some religious and cultural sites are popular in Pokhara.
The Annapurna Sanctuary is, sometimes, synonymous with Annapurna Base Camp Trekking. One of the major highlights of Annapurna Base Camp trekking is Annapurna Conservation Area and its diverse wildlife. This is the largest conservation area in the world. The high pasture lands and landscapes, waterfalls and traditional settlements are also predominantly popular in this region.
After a short drive to the beginning stage of trekking and afterward hiking from the warm territories, there will be an excursion with a moderate move towards mid slopes through a few conventional Gurung clans' homestead towns with consistent excellent views of Annapurna Mountains with magnificent Mt. Machapuchare (Fish Tail). The trail goes through the country ranches and towns, an assortment of landscapes and icy masses, too. It is more particular than some other treks thanks to its multi-ethnic towns, their rich culture, lovely scenes of diverse natural thrills.
It is a decent choice for hiking enthusiasts who want to live close experiences with the Himalayas in a brief timeframe. This is absolutely rewarding among the most famous and giant trekking trails in Nepal.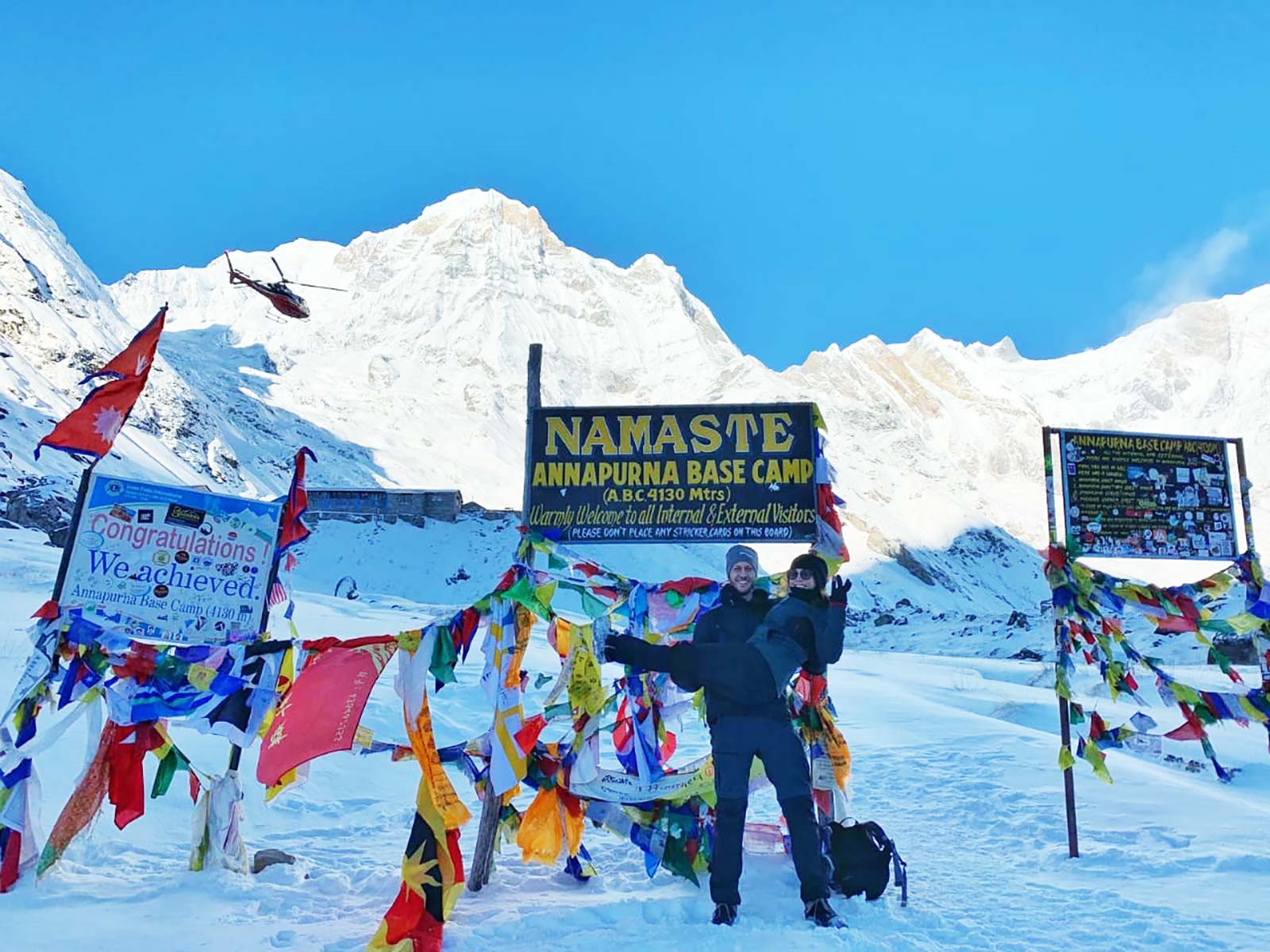 The Annapurna Base Camp is located at 4320m and offers probably the most splendid view of entire Annapurna massif. Starting from the stunning and magnificent time at Annapurna Base Camp, the trail gradually descends down along the same trail. Actually, while descending down, you really don't seem to be ready to say bye-bye to these landscapes, settlements and mountain views in the skyline. While descending down, Jhino Danda will be another astonishing part of this trekking, where you can enjoy natural hot springs.
Guaranteed departure.
* in the case of 6 people, an escort will be present from Italy.